Quick & Reliable washing machine service in coimbatore
VR electronics is a leading washing machine service in coimbatore we can fix all sorts of issues with your washer, dryer, or circuit. We have experienced and qualified technicians who can fix your washer at an affordable repair cost. Our services are available in all edges in Coimbatore
Get your Bosch washing machine repaired with high-quality service in Coimbatore. Enjoy prolonged life and better performance with the help of our experienced professionals.
Get your LG Washing Machine problems solved in an efficient and reliable manner with our high quality repair service in Coimbatore. Enjoy the convenience and peace of mind of having your appliance repaired with confidence!
Get the best and most affordable repair service for your Samsung washing machine in Coimbatore with our expert service team. Enjoy quality repairs at the most convenient prices!
Get the best quality washing machine repair service in Coimbatore at the most affordable prices with IFB. Enjoy a seamless repair experience that saves you time, money and hassle!
Expert Washing Machine Repair Services for any brands
VR Electronics is the best washing machine repair service centre with over 10 years of experience in washing machine repairs. We offer timely and quality service for all kinds of Washing Machines for any kind of issue including Washer Issues, Dryers not working properly, Dub and Motor problems, Circuit problems, and General issues. You can call us at our washing machine customer care number for any kind of assistance.
Get in touch with Vr electronics
We are a service tailored to your family's needs, and we'll work hard to exceed your expectations. Contact VR Electronics today for all of your washing machine repair needs in Coimbatore.
The genius behind the machines
We've been repairing washing machines since the last 10 years , and our expertise is unmatched. In fact, we have the best customer-satisfaction rate in the industry, with a 99% success rate
It's hard to give an exact answer since the cost to repair your washing machine depends on the type of repair and the make and model of the washing machine. However, in general, you can expect to spend between 500 and 5000 for a repair.
The hourly rate for professional repair services typically ranges from 200 to 1000 per hour. That cost may vary depending on the complexity of the repair and the make and model of your washing machine. And, don't forget that you can extend the life of your washing machine by doing regular maintenance on it. The average life span of a washing machine is between 10 and 14 years.
So, if you're looking to repair your washing machine, it's best to get an estimate from a professional and make sure you do regular maintenance on it so you can get the most out of it.
When it comes to repairing a washing machine, there are certain things you need to consider. First, it's important to determine the severity of the repair. If you're dealing with something minor like a broken knob or door latch, then repairing the washer might be worth the cost and effort. However, if you're dealing with a major repair such as a new motor, tub or transmission, then you may be better off replacing the washer altogether.
In many cases, a major repair can cost more than half the price of a brand new washer. So, if you're looking at significant costs to repair your washer, then it's probably more cost-effective to just purchase a new one. Additionally, if you've had your washer for several years and it's starting to show its age, it might be time to just buy a newer model so you don't have to worry about future repairs.
Ultimately, it's important to assess your situation and determine if repairing your washer is worth it or if replacing it is the better option. Shop around for prices on both options and make a decision that best fits your budget and needs. Good luck!
No, it is not worth repairing a washing machine that is 5 years old.
But if you are looking to replace your washing machine, it is worth considering the following:
1.) The lifespan of a washing machine depends on several factors, including the amount of water in the machine and the amount of clothes that are washed in each cycle. A high water consumption will lead to a shorter lifespan than a low water consumption model.
2.) If you plan on using your new model for laundry after it has been washed, make sure to check whether or not it needs any additional cleaning before use. A high level of surface area can lead to an increase in bacteria growth and therefore lead to more frequent cleanings needed over time.
A reliable, experienced company
Your trust is our top priority. We use the latest technology to diagnose your machine and provide a quote before beginning work. Our technicians are skilled in repairing front loading, top loading, semi-automatic, and fully automatic washing machines. We offer competitive prices and guarantee customer satisfaction.
We use unique, custom-built tools to give us the edge
All brands and models
We service a wide range of washers from Bosch to Samsung, Ifb to Panasonic and more. So you can save time getting your broken machine fixed by a trusted repairman in no time
All work guaranteed
With our free diagnostic service, we'll know your machine better than you do. We'll be able to tell what's wrong with it before we fix it – all guarantees included
If you're wondering if it's time to replace your washing machine, there are a few key signs that you should look out for. First, if your washing machine is more than six years old (or twelve if it's a front loader), then it may be time to consider a replacement. This is because the average life expectancy of a mid-range washing machine is about eight years.
Another sign that your washing machine may need to be replaced is if it's on the move – if it's vibrating or rocking when it's running, then this could be an indication that the appliance needs to be replaced. Additionally, if your washer has been getting louder and louder over time, then this could be a sign that it's time for a new one.
In addition, if your washing machine has been leaking or staining your clothes, then these are definite signs that it's time to look into replacing the appliance. Finally, if your current washing machine no longer fits your needs – for example, if you need a larger capacity – then it may be time to invest in a new one.
Hi there! To answer your question about what can damage a washing machine, there are a few bad habits that can cause damage.
First and foremost, it's important to make sure you empty your pockets before washing your clothes. This is because items such as coins, keys, or pens can damage the drum of the washing machine. You should also avoid putting lingerie items such as bras and panties into the washer and dryer, as they can easily get caught in the drum or on the heating element of the dryer.
Next, you should be mindful of how much detergent you're using. Too much detergent can cause residue to build up in the machine, leading to damage and a decrease in efficiency. It's also important to not cram the washing machine too full since this can lead to imbalanced loads and a strain on the motor.
Finally, make sure to remove wet clothes from the washing machine as soon as possible and don't overload the dryer. Additionally, try not to overuse dryer sheets as these can leave a residue on your clothes that can cause damage over time. Lastly, avoid mixing items with different fabrics together since this can cause them to snag and tear.
I hope this helps answer your question about what can damage a washing machine!
Washing machine repair services
We are a trusted organization that customers rely on to provide the best Washing Machine Repair service in Coimbatore. We provide all types of washing machine repair services, like Washer Issues, Dryer not working properly, Dub and Motor problems, Circuit problem and General issue in all types of Washing Machines.
A reliable source for your washing machine
No matter where you bought your machine, we can repair it. We carry major brands such as Bosch, LG, Samsung, IFB, Panasonic, ONIDA and Whirlpool. Contact us now and get your washing machine repaired quickly!
There are a few things you can do to avoid having your washing machine drain. – Make sure the drain hose is clean and free of debris. – Try changing the washer parts frequently to ensure that they are working properly and that there is no obstruction in the drain. – If you suspect that your washing machine is not draining properly, contact your local laundry service provider or laundromat directly.
The average life of a washing machine is typically between 10 and 13 years, depending on the brand and model. Some brands manufacture washers that have an even longer lifespan than the average appliance.
So, if you're in the market for a new washing machine, you can rest assured that it should last for at least 10 years, and possibly up to 13 years or longer.
That being said, there are a few things you can do to ensure that your washing machine has a long and healthy life. For starters, make sure to read the user guide carefully, as it will give you an idea of the specific maintenance requirements for your particular model. It's also a good idea to empty and clean the filter regularly and to check the hoses for any kinks or signs of wear and tear. Additionally, consider getting a service plan to help cover any repairs that may come up over the course of your appliance's lifetime.
Ultimately, with proper care and maintenance, your washing machine should last you many years. Good luck on your search!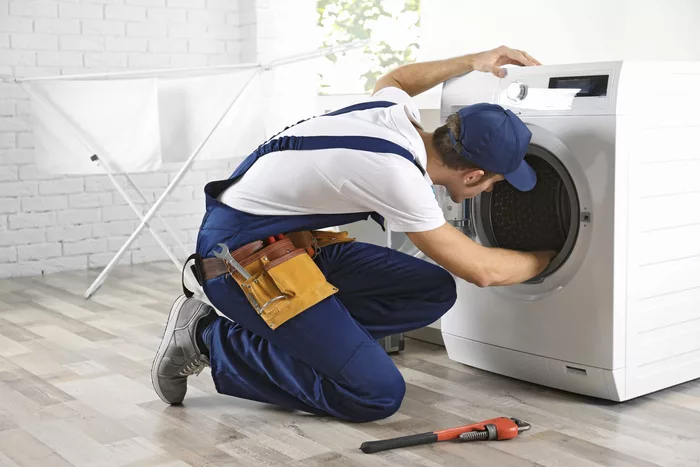 We're here to help! Call Us Today!